Master Theses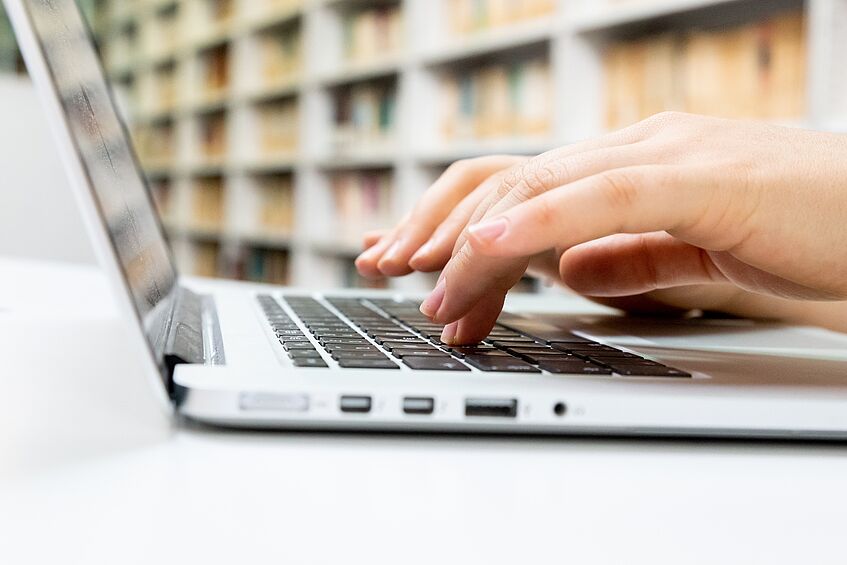 Requirements for Master Theses
The current requirements to be considered as a candidate for a Master Thesis in the Chair of International Marketing are:
Successful completion of Data Analysis for Marketing Decisions as well as International Marketing Research 1 (OR Marktforschung 1) courses.
Willingness (and sufficient knowledge!) to prepare the Master Thesis in English.
Participation in the Masterkonversatorium throughout the Master Thesis period.
A high level of dedication and commitment
Application Procedure
Interested students fulfilling the above requirements should prepare a two page proposal (plus references & appendices) addressing as far as possible the following questions:
What is the study all about? (i.e. the research objective(s)
Why is the topic important and for whom? (i.e. the importance of the study for researchers, managers, policy makers and/or the general public)
Where and how will the study be conducted? (i.e. an outline of the proposed methodology)
When will the study be completed? (i.e. a provisional timetable)
When preparing a proposal, students should ensure that (a) their topic has a clear international dimension, (b) the research questions asked address a gap in the literature and/or an important problem in practice, and (c) the student has the relevant knowledge/skills for successfully carrying out the study.
Although, in general, the responsibility for identifying a suitable Master Thesis topic lies with the student, specific topics may be proposed by staff in the Chair of International Marketing. Students interesting in doing Master Thesis in the Chair of International Marketing may find it helpful to consult the "Guidelines for Master Theses" on our homepage and also speak to some of our current students writing their thesis at the Chair of International Marketing (see the list below).
Guidelines for Master Theses
These notes have been prepared to give you the information that you will need in order to complete your Master Thesis at the Chair of International Marketing successfully. They set out the basic rules and the "dos and don'ts" of the process, as well as giving some more general advice on how to undertake a Master Thesis.
Please read them carefully and early!
What is the Master Thesis?
The Master Thesis provides you with the opportunity to put together the various skills that you have acquired in the course of your studies, and to demonstrate your competence as a researcher. It allows you to apply your acquired skills in studying a specific International Marketing topic; produce original research through the application of an appropriate social science method; undertake data analysis; and, finally, present your results in writing. It sounds daunting, but students generally manage to produce their Master Thesis in time and even enjoy doing it!
The Master Thesis is a major piece of work which all students on the University of Vienna's Masters degree programmes undertake. To reflect its importance you should devote a commensurate amount of time to it.
There are four main differences between the Master Thesis and the essays that you are accustomed to writing for your other courses:
It is focused upon a topic that you have chosen.
It is based upon your own original research.
It reflects your own thinking, based on your study of International Marketing literature and the data you collect.
It allows you time to develop your ideas, and space to present them.
Choosing a topic for your Master Thesis
The choice of your Master Thesis topic is your responsibility. This is a major element of your study at the University of Vienna, and you must achieve a pass grade in order to be awarded a degree. It is most important that you choose an area you are happy to work in, and in which you are confident of your abilities, because you will be spending a lot of time on it, and ultimately this will be an important item on your CV!
Ideally, we would like you to come up with the basic topic idea, though it is likely to be modified after discussion with a member of staff. Once you have done so then you should approach a potential supervisor to discuss the details and ask them if they would be willing to supervise it.
Supervision Arrangements
Your supervisor is a member of staff who will guide you through the various stages of your Master Thesis. She or he should be your first point of contact for all matters relating to your Master Thesis. You should meet with her or him roughly every fortnight but you will usually have most contact at the start of the Master Thesis to discuss your ideas and when he or she has had the chance to read and comment on draft chapters of your Master Thesis. It is best to come to a supervision session with some specific issues to discuss. If you want comments on a draft, you should make sure that you give it to your supervisor with enough time before you meet for her or him to read it. Supervisors are expected to read no more than one draft of each chapter in the Master Thesis.
Maintain regular contact with your supervisor; she or he can help you refine your ideas and can give suggestions for things to read or how to overcome problems. It is your responsibility to contact your supervisor to set up meetings and to discuss your progress. Your supervisor is not expected to contact you. Also, please plan ahead. Your supervisor has other responsibilities and is not expected to drop everything to meet you, to read your work, or to give feedback.
If, for any reason, you are unhappy with your supervisor, you should discuss this with her/him first. If you are still unhappy you should see Univ.-Prof. DDr. Diamantopoulos or the Studienprogrammleiter.
Size & Scope of the Master Thesis
There is no general page limit but it should be apparent that the Master Thesis has to be a substantive piece of scientific work. A good approach is to start the Master Thesis with a critical review of relevant literature identifying existing research gaps. This, in turn, serves as the starting point for subsequent conceptualisation and hypotheses development. Long repetitions of already existing work are not necessary, a short summary and a clear reference to the quoted sources is sufficient.
Concept definitions must be precisely formulated and clearly explained in the context of the topic. It is advisable to check for consistency in definitions between different approaches in literature. In cases of inconsistencies, a rationale for the chosen approach must be provided.
The overall structure of the work has to resemble the approach taken to address the research question at hand and should be kept relatively simple. You should construct a preliminary structure of the work and discuss it with your supervisor as early as possible. One example can be found in the latter section 'Writing your Master Thesis'.
The readability of the work is of paramount importance. An uninformed reader must be able to follow the thread of the Master Thesis and deepen her/his knowledge by the cited references. Constantly ask yourself the following basic questions which will help you to keep on track:
What is the problem at hand?
Why is it important?
How can the problem be addressed?
Can a different approach address the problem in a better way?
Timeframe for the Master Thesis
A Master Thesis involves a substantial amount of time to complete and therefore has to be pursued with true commitment. The Chair of International Marketing allows 12 months time to its completion and appreciates dedicated work. To achieve this goal, regular meetings with your supervisor as well as attendance at the Masterkonversatorium throughout the semester are important and must not be taken lightly.
Writing your Master Thesis
Always keep in mind that it is the written text that is evaluated. However much time and effort has gone into the research, the assessment stands or falls on the quality of the written text. Therefore the structure and clarity of the Master Thesis are both crucial. There is no one right way to write a Master Thesis because each project is unique; however, the following guidelines should help:
Title page

needs to be designed according to a draft available at the StudienServiceCenter which you can find here.

Acknowledgements

. It is courteous to thank people for any help you have been given. Acknowledgements are usually placed at the beginning of the dissertation after the title page and before the contents page.

Abstract

giving a short overview of the work in your Master Thesis in the language of the Master Thesis. If the language of your Master Thesis is not German then a second abstract in German should be added to the appendix.

Table of contents

giving page numbers for all major section headings.
Introduction which sets out the general topic that you researched, the specific questions that you addressed, and why these are interesting and important from a theoretical/managerial point of view.

Review of literature

by other scholars which informs the theoretical and empirical issues underpinning your own research. While you should show that you know what others have written on the topic, do not simply summarise previous research. Instead, write a critical review of the literature which explains why the pieces you review are important and how they inform your own project.

Methodology

presenting a discussion of the research methods adopted. Explain which method or methods you adopted, why these were appropriate, what the possible limitations of your methods were, and how you analysed the data.

Presentation and Analysis of the Results

. The form of these will obviously depend upon the kind of research you undertook. Whatever method you used, however, you need to make sure that the assertions you make in your analysis and discussion can be justified in relation to your research findings. To do so, you will need to provide the appropriate evidence (tables, quotations, etc.) in the text.

Discussion

in which you draw together the different parts of the Master Thesis. Here you should connect your own empirical research back to issues or concepts you considered at the beginning of the Master Thesis and to the literature you reviewed.

Conclusion

. Here you should discuss the overall implications of your study for international marketing theory and practice. You should also address your study's limitations and suggest avenues for further research.

References

which provide full citations for all of the sources (public documents, scholarly literature, internet resources, etc.) that you have mentioned in the text. It is vital to make sure that you do this properly (see next point for advice on referencing). Do not include works that you read but did not cite in the Master Thesis itself.

Appendices

: Where relevant, your Master Thesis will include appendices. Copies of cover letters, interview schedules or questionnaires should be presented in an appendix. You may also include some statistical tables not analysed in the text. In general, try to keep Appendices to a minimum. Additionally, you are expected to append a German as well as an English summary (1-2 pages each).

An example of the above structure is shown below: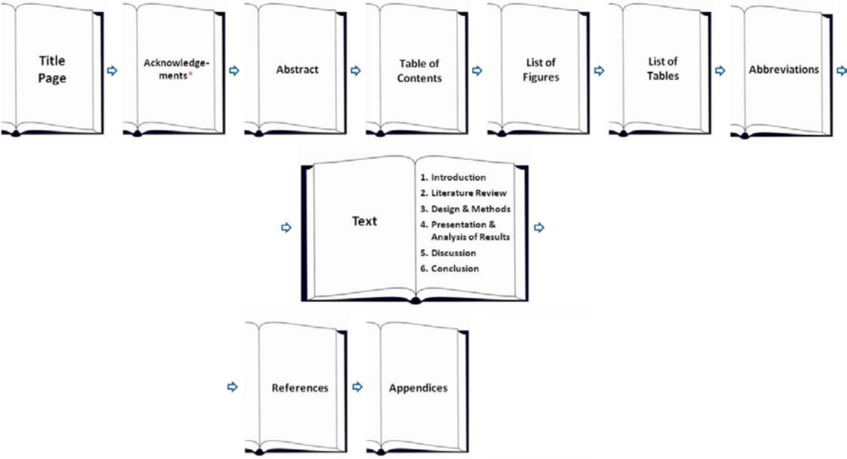 Plagiarism
If it appears that you have presented the work of others as your own, this constitutes plagiarism and is therefore a form of academic misconduct. The Chair of International Marketing's guidelines on plagiarism can be found on the website under Plagiarism. There are very strict penalties for those students found to have plagiarised.
Presentation of the Master Thesis
The general format of the Master Thesis is based on DIN A4 paper (210 x 297 mm), upright format, double sided, and the margin should be selected that a binding is possible. The font of the study should be Times New Roman with 12pt, 1.5 line-spacing with full justification. The use of bold, italic, and underlined formatting is appreciated but should not impede the consistency of the text. The headline should include the name of the respective chapter while the footer should only contain the page number. Please also note that, due to pseudonymisation of data during plagiarism control, no personal data (matriculation number, name, etc.) may be included in your thesis from page 7 onwards.
Footnotes can be used but should be limited to making important clarifications or references to other fields of research. Footnotes are definitely not a place to stuff numerous quotations and remarks.
The use of tables and figures is recommended if they help to illustrate or understand the text. They should be consistently numbered, titled and clearly presented. Abbreviations and codes used in the tables should be made clear, perhaps in a key at the bottom of the table. Only include tables and figures that are mentioned and discussed in the text. If the table is based on data other than your own, always provide the source of the table or the data at the bottom of the table.
Special attention should be given to the use of correct English grammar and syntax. A good recap on English grammar can be found at "The American Heritage Book of English Usage". The most exhaustive online dictionary for English/German and vice versa is LEO.
For guidelines on academic writing please browse through the following:
The printout of the Master Thesis has to be of good quality (preferable no inkjet printers), emphasising the readability of the text and duplex printed. A sloppy manuscript may give the appearance of sloppy work in general and your mark could suffer as a result. Master Theses are required to be additionally handed in electronically. For information on the electronic submission and some general formal requirements see: https://wirtschaftswissenschaften.univie.ac.at/service/studienservicecenter/schriftliche-arbeiten/master-magisterarbeit/#c49373 and https://mtbl.univie.ac.at/storage/media/mtbl02/2006_2007/2006_2007_226.pdf
Citation
Correct citation is very important and the Master Thesis must not include any mistakes in this regard. The Chair of International Marketing does not suggest a specific citation system but it is indispensable that the chosen style is consistently applied throughout the Master Thesis. The following sites give useful guidelines on citing:
American Psychological Association (APA):
Harvard:
A good overview of various citation styles:
Additionally, information on citation can be found in most international journals such as:
Other Resources
You should definitely read the Academic Writing guidelines on our homepage and you may also find the following books helpful when planning/writing your Master Thesis.
Eco, U. (1990), Wie man eine wissenschaftliche Abschlussarbeit schreibt, Müller: Heidelberg. •Ebster, C. and Salzer, L. (2002), Wissenschaftliches Arbeiten für Wirtschafts- und Sozialwissenschaftler, WUV: Wien.
Glatthorn, A.A. and Joyner, R. (2005), Writing the Winning Thesis or Dissertation: A Step-by-Step Guide, A Corwin Press Publication: Thousand Oaks.
Hart, C. (2004), Doing Your Masters Dissertation, Sage Publications: London.
Rössl, D. (2002), Die Master Thesis in der Betriebswirtschaftslehre, Facultas: Wien.
Walliman, N.S.R. (2004), Your Undergraduate Dissertation: The Essential Guide For Success, Sage Publications: London.
If you have any questions, please do not hesitate to contact a member of staff of the Chair of International Marketing.
Current Master Theses
| Student | Topic |
| --- | --- |
| Bell Luisa Klara | Product Packaging and Consumers' Willingness to Pay: The Role of Unconventional Lettering |
| Dalsass Mathilde | The Social Acceptability of a Carbon Tax in Austria |
| Gilhofer Stefanie | Impact of Accent an Customer Participation and Services |
| Hanser Fabian | The Interplay between Spiral Dynamics, Consumer-Brand Identification and Brand Identity Expressiveness as Drivers of Global or Local Brand Preferences |
| Hasel Verena | Country-of-Origin Changes and Willingness to Pay: The Role of Consumer Characteristics |
| Ivanova Evelin | Consumer Culture Positioning and Brand Schema Evaluations: The Role of In-group/Out-group Bias |
| Klar Philipp | The Effect of Social Corporate Social Responsibility (CSR) on Consumers' Brand Stereotypes and Subsequent Brand-Related Behavior |
| Lutz Jana | Consumer Xenocentrism: What We Know and How We Use It - A Literature Review and Reconsideration of its Measurements |
| Matei Sylvia-Alexandra | The Indirect Effects of Ethnocentrism and Xenocentrism on Consumer Behavior and the Role of Local Identity/Consumer Animosity |
| Missbrandt Kerstin | Exploring the Influence of Language on Product Packaging on Consumer Behavior |
| Nieuwlaat Valerija | Consumer Preference for Local Brands: A Quantitative Study into the Influencing Factors |
| Proßer Sophia | The Interaction between Country Image and (Ir)Responsible Business Practices in Impacting Consumer Behavior |
| Sergeeva Elena | The Influence of Celebrities and COO Stereotypes on Consumers' Willingness to Pay |
| Tessmann Nathalie | Brand Stereotypes and Brand Ethicality on Consumer Attitudes |
| Videnova Lisa | Effect of COO and Product Superiority on Willingness to Pay |
| Winter Thomas | On the Interplay between Brand Ethicality, Brand Status, and Brand Buyer Stereotypes |
| Zornickova Viktoria Julia | Beauty of Greenwashing: The Impact of Greenwashing on Consumer Brand Perception in the Beauty Industry |
Completed Master Theses
Student
Topic
Year

Schlumberger Keno Jacomo

The Impact of a Carbon Dividend on the WTP for a Carbon Tax on Foodstuff Among the Austrian
Population
2022

Shurmelova Tamara

Migrants' Acculturation and Their Participation in Services - An Observation in the Health Services Context
2022

Lehdorfer Doris

City-of-Origin vs. Country-of-Origin Cues: A Comparative Study of Consumer Responses
2022

Hofbauer Lisa

The Impact of Xenocentrism on Willingness to Pay: Exploring the Role of Product Ethnicity
2022

Bahner Jakob

Willingness to Buy Fashion Products 'Made in China' - The Importance of Sustainability for Generation Z
2021

Graf Katharina

M&A´s of "Country Iconic Brands" by firms from a close and distant culture area
2021

Raff Andreas

Can "Buy Local" Campaigns in Times of Covid Backfire? Self-Construals as Antecedents of Reactance
2021

Topuzoglu Elena

How Salespeople are stereotyped: An Analysis through the lenses of the Stereotype Content Model
2021

Leibetseder Florentin

Green Bond: Analysis of the Relationship between Sustainability and Consumer Brand Identification through Consumer Value
2021

Liang Xu

Effects of Brand Stereotypes on Consumer Responses in the context of Corporate Social Irresponsibility
2021

Toedter Emily

How CSR Engagement of Brands Shapes Brand Stereotypes: A Cross-Cultural Comparison of the Effects
2021

Schubert Hannah

Effects of Transparent Information on the Perceived Value of and Willingness to Pay for Sustainable Fashion in Online Retailing
2021

Greiner Matthias

The Impact of Acculturation on Customer Participation – An Experimental Study
2021

Wang Quan

The Interplay Between Country Stereotype Dimensions and the Role of Country-Related Affect in Shaping Consumer Behavior
2021

Koposov Danila

Identity Salience and In-Group/Out-Group Products: Investigating the Crossover Role of the EU Identity
2021

Goletiani Teona

A Taxonomy of Consumer Salespeople Characteristics and Skills
2021

Nguyen Linh

Brand and Brand Buyer Stereotypes versus Consumers' Need for Uniqueness as Drivers of Consumer-Brand Identification
2021

Galli Sofia

Anti-food-waste Ambitions and their Ability to Dampen Consumer Dissatisfaction in Stockout Situation: An experimental Approach in the Grocery Retail Sector
2021

Hagen Santina

Migrants' Customer Participation in Austrian Public Employment Service and the Role of Communication Barriers
2021

Bico Lejla

The Acculturation of Immigrants and their Customer Participation in Services
2021

Rad Julia

Ingredient Branding: Relationship Quality Influencing the Willingness to Brand
2021

Angeli Alva

Marketing Activity of Born Globals. Application of the EMICO Model in a B2C Context
2021

Steiner Catherine

Use of COO Strategies by Brands in Their Online Communication
2021

Richter Moritz

The Limbic® Approach in Scientific Research: Investigating the Academic Use of the Limbic® Map in Conjunction with the Perception of Austria as a Brand
2021

Maack Mariel

How Dysfunctional Consumer Behavior is Influenced by Different Levels of Consumer Xenocentrism
2021

Bretthauer Franziska

The Impact of Loss Aversion in the Context of Product Ethnicity
2021

Boehm Marie-Luis

Investigating the Effects of Implicit and Explicit Consumer Xenocentrism on Purchase Intention
2021

Sarioglu Baris

The Impact of Immigrants' EU Identity on Their Purchase Intention of Products with Different Origins: The Role of Reactive Ethnicity in Shaping Immigrants' EU Identity
2020

Öztürk Özgür

How Can We Minimize Food Waste While Maximizing Customer Satisfaction? - Less Production Approach in the Food Service Sector
2020

Nienhoff Isabel

The Effect of Environmental Corporate Social Responsibility (CSR) on Consumers' Brand Stereotypes and Subsequent Brand-Related Behavior
2020

Pacyna Victor

Anchoring and Complementing Country Stereotype Dimensions in Brand Communications
2020

Scherer Nathalie

Impact of Consumer Xenocentrism and Consumer Ethnocentrism on Decision-Making Choices – A Study on Foreign and Domestic Product Bias
2020

Takács Mónika

Loss Aversion in Reference-Dependent Choices for Global and Local Brands
2020

Luburic Goran

The Impact of Consumer Xenocentrism and Ethnocentrism on Purchase Intention: Exploring the role of Brand Stereotypes
2020

Pantoja Mora Jorge

The Acculturation of Migrant Customers and Their Customer Participation in the Public Employment Service
2020

Aigner Lea

Exploring the Role of Loss Aversion between Consumers' Choice of Global and Local Brands
2020

Ibishi Arbereshe

European Identity and Product Preferences: The Case of Immigrants
2020

Petrychenko Anastasiya

Relationship between Consumer Disidentification and Consumer Xenocentrism and their Impact on Willingness to Pay
2020

Staudinger Anna

Brand Love and Its Antecedent Anthropomorphism: A Cross-Cultural Context
2019

Greiner Ute

Brand Globalness and Localness as a Driver for Bundling Decisions
2019

Bindhammer Lorenz

The Effect of Perceived Globalness/Localness on Product Bundle Preferences: Exploring Configurational Assymmetry and Dominance
2019

Romanyuk Andriana

The Impact of Customer Coproduction of Services on Subjective Well-Being of Immigrants in Austria
2019

Dachs-Wiesinger Julia

Do Ethnocentrism and Xenocentrism Lead to Irrational Consumer Behavior? Empirical Evidence from Austrian Consumers
2018

Davydova Olga

The Impact of Consumer Xenocentrism on the Purchase of Genuine and Counterfeits Brands
2018

Erdbrügger Jennifer

Stereotype Content Model: Tourism Destination Image from a Marketing Perspective
2018

Gálová Mariana

Stereotypes in Global Branding: Impact on Emotions and Purchase Intention
2018

Milivojevic Dragana

The Impact of Xenocentrism on Foreign Brand Purchase: Exploring the Role of Consumer Animosity
2018

Mucha Josef

The Role of European Identity in Consumer Purchase Behavior
2018

Radovic Nina

Foreign Brands and Preference of Consumer Culture Positioning: The Interplay of Incongruity and Consumer Characteristics
2018

Saracevic Selma

Brand Buyer Stereotypes: Is Need for Uniqueness More Important than Stereotypes in Brand Evaluation and Choice?
2018

Shaoguang Liuman

Domestic Intercultural Service Encounters: The Role of Country Stereotypes in Customer Attributions
2018

Liu Lucy

The Impact of Regret Anticipation on Consumers' Choice between Global and Local Brands
2017

Glaser Matthias

Dissociated-harmonious COO-products: A Disadvantage?
2017

Köller Christina

Multiple Location Specific Identities: The Interaction of Multiple Identities and their Brand Origin Effects
2017

Vittur Irina

Emotions Generated by Country Stereotypes and their Impact on Consumer Behavior
2016

Kirchhofer Michaela

Disentangling the Effects of Brand- and Consumer Characteristics on Brand Evaluation
2016

Netopilova Martina

Being or Becoming a Global Consumer? An Investigation of Antecedents to Global Consumer Dispositions
2016

Adamson Gemma

Conjoint Analysis: Local versus Global Brands: Does the Local/ Global Attribute Play a Significant Role for Consumers in the Purchasing Decision Process?
2014

Biath Richard

Global vs. Local Brand Consumer Evaluations: A Multi-Category Experimental Investigation in a Recently Graduated Developed Country
2014

Katholnig Simona

The Effects of Perceived Authenticity on Consumers' Response to Brands: Evidence from an Emerging Market
2014

Konstantinova Gergana

The Impact of Authentic Brand Stories on Brand Perceptions and Consumer Behavior
2014

Suljkanovic Dijana

Authenticating Global and Local Brands - The Effects of Authentic Brand Stories on Willingness to Pay, Purchase Intention and Brand Choice
2014

Swoboda Kristof

Conceptualization of Employee Brand Building Behaviors
2014

Obradović Jelena

Consumer Perspective: Does Brand Globalness Really Matter?
2013

Patak Peter

Intercultural Service Encounter: Theoretical and Managerial Perspective
2013

Steyer Alexandra

Feedback Effects of Service Extensions on the Parent Product Brand Image - Do Service Evaluations Matter?
2013

Wahl Alexander

Consumer's Country-of-Origin Knowledge and Implicit Country-Cue Usage
2013

Walzl Katharina

Feedback Effects of Service Extensions on the Parent Product Brand Image -The Differences Between Product und Service Brand Extensions and the Main Drivers of Feedback Effects in the Service Context
2013

Wanke-Jellinek Amelie

Feedback Effects of Service Extensions on the Parent Product Brand Image - An Investigation of a FMCG Brand
2013

Zwinger Johannes

The Effects of Perceived Authenticity and Perceived Globalness on the Willingness to Pay of Consumers
2013

Eberl Maximilian

Country Image and Consumer's Willingness to Pay
2012

Milchram Christine

Consumer Culture Positioning in Advertising and Ad-Brand Incongruity
2012

Schneeberger Sonja

Corporate Social Responsibility and the Willingness to Pay of Consumers
2012

Bichler Barbara

Service Recovery Experiences and the Reformulation of Buyer-Seller Relationships: An Empirical Investigation
2011

Frigo Paul

Embedding the Country-of-Origin in the Corporate Brand Name: An Empirical Study
2011

Moser Katrin

Towards a Theoretical Understanding of How Emotions Fuel Consumer Aggression: The Case of Humiliating Service Experience
2011

Kraxner Barbara

Measuring Consumer Willingness-to-Pay for "Made in EU" products
2010

Adrian Sigrun

Developing an Interactive Clustering Approach to Maximize Marketing Mix Effectiveness
2009

Burger Karin

Country Affect: Scale Development and Validation
2009

Kirchengast Christian

Airlines and Country-of-Origin from a European perspective
2009

Schischlik Nicole

The Country Image-Outcome Variable Link: The Moderating Role of Human Personality
2009

Schwaha Stefan

Forecasting Willingness-to-Pay With Direct Price Elicitation: The Moderating Role of Consumer Characteristics
2009

Wastian Ursula

The Country-of-Origin Effects in Consumer Brand Perception and Brand Evaluation Processes: A Qualitative Study
2009

Fritsch Elisabeth

The Concept of National Identity: An In-Depth Analysis of Its Nature and Impact on Consumer Behaviour
2008

Grillmair Julia

Evaluating the Impact of Other Customers on Service Experiences - A Replication and Extension
2008

Pöstion Anita

Insights Into Consumers' Perceptions of Global and Local Brands
2008

Roitner Andreas

Competitive Intelligence in Austria: An Empirical Study
2008

Schein Michaela

Exploring Online Surveys - Open Source Survey Tools Evaluation and Comparison with an Application Study on Online Survey Methodology
2008

Scheithauer Astrid

An Empirical Documentation of Positioning Practices Used by Global Brands
2008

Schiefer Johannes

Global and Local Brand Positioning: A Company and Consumer Perspective
2008

Blaha Susanna

The Consumer Xenocentrism Scale: An Assessment of its Validity and Reliability on an Austrian Sample
2007

Oberecker Eva

Consumer Affinity: Conceptualization and Exploratory Insight
2007

Schreiner Kathrin

The Influence of Culture on Cognitive-Emotive Processes during Service Recovery Encounters: An Empirical Investigation
2007

Egger Barbara

The Impact of Consumer Ethnocentrism and Consumer Cosmopolitanism on Consumption Behaviour
2006

Fritsch-Richter Herbert

Measuring Consumer Animosity of Austrian Consumers Towards the United States
2006

Geisler Bernd

International Customer Segmentation and External Partners
2006

Gruber Barbara

Carrying out International Customer Segmentation - Internally versus Externally
2006

Hennebichler Peter

Country of Origin Knowledge: An Investigation of Consumers' Brand Origin Recognition Accuracy
2006

Jevdjenic Rodoljub

Concept Testing within New Product Development: Applied to a Mobile Phone for the Grey Market
2006